Under the current legislation, employers have a duty of care to protect both their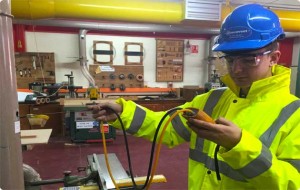 workforce and the environment from any harmful dust and fumes from substances used directly in work activities such as adhesives, paints, cleaning agents or generated from their production processes such as dust from wood production, chemical manufacture, fumes from welding, or naturally occurring substances such as grain, flour and silica dust or biological agents such as bacteria and other micro-organisms.
Employers have to protect both employees and others who may be exposed by complying with the Control of Substances Hazardous to Health Regulations 2002 (COSHH) (as amended). This will usually involve the use of a Local Exhaust Ventilation (LEV) system. It is the employers' duty to ensure that such control measures are used by the workforce and are maintained in an efficient state, in efficient working order, in good repair and in a clean condition.
Employers are also required to ensure that the LEV system is subjected to a thorough examination and testing of these controls. These tests should be undertaken every 14 months but this may be more frequent depending upon the process involved. All results of these examinations and tests should be recorded in report form and retained for a minimum of 5 years.
People who supply, examine and maintain LEV must be competent otherwise the LEV system may not work properly, putting people's health at risk. Competence is a combination of knowledge, skills and application experience that enables a person to do an effective and reliable job. A training course by itself will not make a person competent. Competence comes from a combination of knowledge, skills and experience. Some people with lots of experience, but with no formal qualifications, may be competent.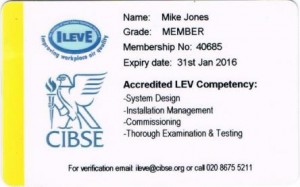 Duscovent Engineering Limited employ fully trained and competent engineers with membership of The Institute of Local Exhaust Ventilation Engineers (ILEVE) which is part of CIBSE. All Duscovent Engineers carry an ILEVE membership card which lays out their individual membership level and demonstrates their professional accredited competency in various areas of LEV including System Design, Installation Management, Commissioning, Thorough Examination and Testing as well as Principals of Occupational Hygiene. Duscovent Engineering Limited can offer an LEV 'Thorough Examination & Test' to establish initial airflow rates, volumes and system pressures. This includes quantative and qualitative testing with a record of each check being logged within a report which contains all of the required information needed to comply with the latest HSE guidance, HSG 258.
All tests meet HSE requirements and Regulation 9 of the Control of Substances Hazardous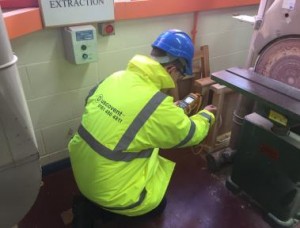 to Health (COSHH) regulations and the guidance in HSG 258 'Controlling airborne contaminants at work: a guide to local exhaust ventilation'
The COSHH regulations require that all LEV systems are subject to an initial appraisal. They also require LEV systems to undertake thorough examination and testing every 14 months – more regularly for some substances and processes – including oil mist, welding fume, smoke and dust extraction units.